17 April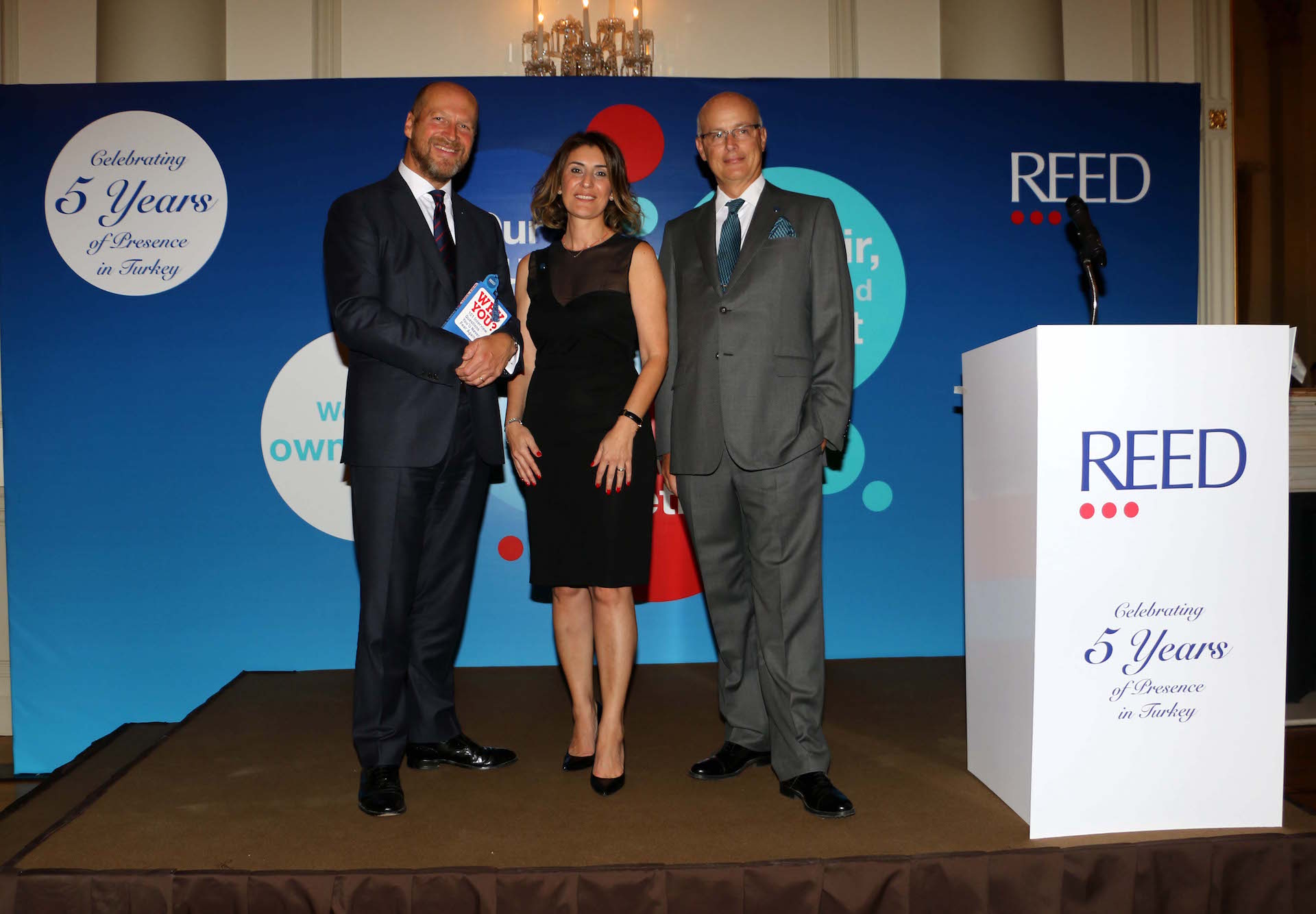 REED Turkey grew 81% in its 5th year
---
"WE TRUST IN TURKEY, OUR INVESTMENTS WILL CONTINUE"
UK-based employment agency REED; celebrated its fifth year in Turkey with the partnership of Bell Holding, with a special reception at the British Consulate General. At the ceremony, James Reed, Chairman of REED Global Limited, talked about REED Turkey's five-year success streak and said: "Turkey is a strong country. We trust its economy and we will continue to invest."
4 October 2016, İstanbul;
World's recruitment leader REED, celebrated its fifth anniversary in Turkey, with a special reception at British Consulate General. The reception was held by the participation of James Reed – Chairman of REED Global Limited, Asiye Yıldırım – General Manager of REED Turkey, Judith Slater – British Consul General and Livio Manzini – Chairman of Bell Holding and the support of British Chamber of Commerce. The ceremony brought together the industry leaders and members of the press.
The meeting was held by the kind permission of HM Consul General, Mrs. Judith Slater at Pera House. Recent developments in recruitment globally and locally were assessed. The ceremony started with the welcoming speech of Asiye Yıldırım and then James Reed gave positive messages about Turkish recruitment market and its economy.
The British Consul General Judith Slater also gave a short speech at the ceremony and she said: "It is only my second week here in Istanbul. I've just arrived and everyone has made me feel very welcome. I am happy and privileged to be the new British Consul General here. My last job was in Singapore and during my career I've worked all over the world for Britain. But it's great to be in Turkey for the first time professionally. It's wonderful to be hosting this event for a company like REED, a really top-notch business. REED is the best known recruitment business in the UK and I was delighted to learn that it is doing so well here, having partnered with Livio Manzini's Bell Holding. This sort of partnership is precisely what we aim to support and broker here at the British Consulate General, through our Department for International Trade team and with the support of British Chamber of Commerce in Turkey. It's exactly what we are here to do and we are ready to support and help these partnerships, marrying the best of British with the best of local Turkish know-how and expertise. So, congratulations on your 5 years. I am delighted to say that we have the eponymous James Reed here, REED Global's CEO. He has a fascinating CV which includes all sorts of things; working in journalism, advertising and in development aid around the world before joining the family business, becoming its CEO and taking it to new heights."
Following Slater's speech, James Reed, Chairman of REED Global, started his speech with the story of REED which began in London and its arrival to Turkey. Reed, "REED was founded in 1960 by my father Alec Reed. To this day it remains a family company. The values of the company carries our family's values. We take ownership, we work together, we are fair, open and honest. Those remain as our values since the very beginning. We have also pursued the same strategy and we grew very quickly and organically. We believe that is the best way to ensure giving a good service to our customers. In order to grow organic, there are two steps: Service quality and innovation."
Reed, "After 56 years of our foundation, we are now the world's largest family-run recruitment company. We're now growing our operations with our partners here in Turkey. The reason why we invested in Turkey is because Turkey is a very dynamic country with a market full of opportunities so that we can grow and develop. I am very positive and optimistic about Turkey. One of the reasons of my positive approach is because we've found a very good partner here: Livio Manzini and his family company Bell Holding. They share the same values as ours. We are very compatible as partners. We're celebrating 5 years of REED in Turkey in this occasion. It feels very rewarding and exciting to see the success the team has achieved. We entered Turkish market, with the partnership of Bell Holding. Today our expert knowledge spreading across 13 countries, we provide specialist, mid-level and senior selection and placement recruitment services to leading companies in Turkey."
Will flexible workforce be a solution to unemployment?
"With the new change of the labor law in Turkey, recruitment market and employment altogether will improve." said Livio Manzini, Chairman of Bell Holding. "According to European Confederation of Private Employment Agencies (Eurociett) data; in 2011 46 million people worked temporarily through private employment agencies. Temporary employment will open new job opportunities for a number of people, because it was so far a solution to the problem of unemployment in many countries in Europe. It also has a positive effect on women's labor force participation. For young graduates it helps them to acquire work experience at the first steps of their careers. Also it's an opportunity for the people who wants to work temporarily and spend much more time with their hobbies. Our studies about the temporary employment continues at full steam" he continued.
"We grew up by 81%"
Asiye Yıldırım, REED Turkey's General Manager mentioned the company's growth speed through these 5 years: "We put people at the center and at our management approach we also follow the same policy. We have a lean organization. What differentiates us is our flexibility and our ability to take action rapidly. Since 2011, we have been steadily growing as organization and we secure the budget by double-digit numbers. In the first six months of 2016, we have reached the double-digit growth on our budget. We grew by 81 percent compared to last year. In the coming period, we aim to continue being a leader in the sector, make successful agreements, touch people's careers and make positive changes. With our customer-oriented approach, we hope our customers to experience a fast and qualified consulting service."
56 years of expertise…
Since 1960, REED is known as an organization that serves as speciality recruiter for the first time in the world. Today; it operates over 30 specialty in 13 countries such as Britain, Ireland, Poland, Czech Republic, Hungary, Bulgaria, Malta, Turkey, Australia, Hong Kong, Singapore, Korea and Malaysia with expertise in over 30 operates in 13 different locations.
REED has 3 offices in Turkey; İstanbul, İzmir and Ankara. It is giving services of middle and senior staff selection – placement, seasonal employment, recruitment process management, outsourcing, payrolling and first-class HR service.
About REED Turkey
Founded in 1960, UK-based recruitment and consulting firm REED serves in Turkey with the partnership of Bell Holding since May 2011. REED has 3 offices in Turkey: İstanbul, İzmir and Ankara. It puts people in the center of its business and touches people's lives and organizations' structure. REED, with its knowledge spread across 13 countries, it is giving services of middle and senior staff selection – placement, seasonal employment, recruitment process management, outsourcing, payrolling and first-class HR services. www.reedglobal.com